Reserve
Private Residences
Perfect for families, couples traveling together, or a larger group seeking more space or added flexibility, our private residences are designed for seamless, indoor/outdoor living - the epitome of Harbour Island life. Our private residences offer guests a variety of configurations, while providing access to all the amenities of our hotel just a short stroll away.
DATES OF LOW, HIGH & PEAK SEASON
Low Season:
Nov 9, 2017 – Nov 21, 2017
Nov 27, 2017 – Dec 15, 2017
June 1, 2018 – Aug 15, 2018
High Season:
Jan 4, 2018 – May 31, 2018
Peak Season:
Nov 22, 2017 - Nov 26, 2017
Dec 16, 2017 – Jan 3, 2018
Feb 11, 2018 – Feb 15, 2018
March 4, 2018 – April 24, 2018
May 26, 2018 – May 30, 2018
July 1, 2018 – July 5, 2018
Nov 22, 2018 – Nov 26, 2018
We are closed from August 15th through November 15th each year.
Residence Amenities
Private beach access
Direct dial telephone
Hairdryer
Bathrobes and slippers
Electronic in-room safe
Audio speaker system
Flat screen TV
Beach outdoor shower
Private concierge services
Complimentary coffee/tea making facilities
Molton Brown personal care products
Complimentary Wi-Fi
Fully air-conditioned
Daily housekeeping & turndown service
Golf cart parking
Full access to The Dunmore Hotel amenities
Complimentary Roundtrip private airport transfer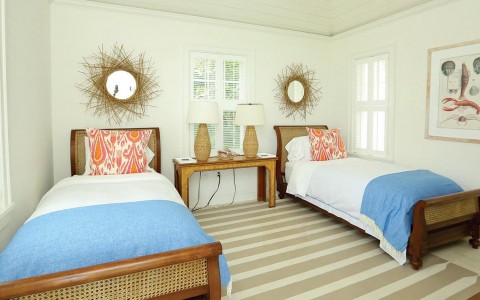 Ocean House
Low Season: $3,500 per night|High Season: $4,200 per night|Peak Season: $5,500 per night
A fresh, nautical-chic design infuses the Ocean House with a genuine sense of welcome. The main house has two master bedrooms, each furnished with a king bed, en-suite bathroom, and direct access to a veranda overlooking a private pool.
Book Now
View Details
Floorplan
The main level: Open-concept kitchen with modern appliances, prep-island, and wine cellar. This level also includes a washer/dryer and guest powder room.
The living room: A family room opens onto an airy furnished patio and private oceanfront pool.
Pool cottage: The adjacent pool cottage has one ocean view king bedroom and one garden view room with twin beds and a private patio.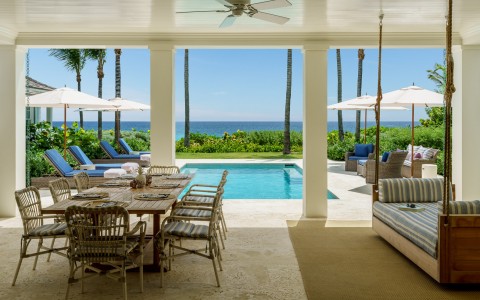 Sitting Pretty
Current Season: $10,000 per night
Our flagship private home, this exclusive beach getaway belongs to none other than the owner of The Dunmore Hotel. With designer interiors, Sitting Pretty is an entertainer's paradise exuding Harbour Island's laid-back charm.
Book Now
View Details
Floorplan
The main house: 6,000 sq ft of fully air conditioned living space with a full kitchen, washer/dryer, wet bar, powder room, dining area, family room and living room to unwind in.
Oceanfront pool: Slated panel doors open onto an expansive furnished patio and sparkling oceanfront pool with plenty of poolside loungers.
The bedrooms: All four spacious bedrooms have king beds (one king converts into twin beds) with en-suite bathrooms and french doors, opening up to individual verandas.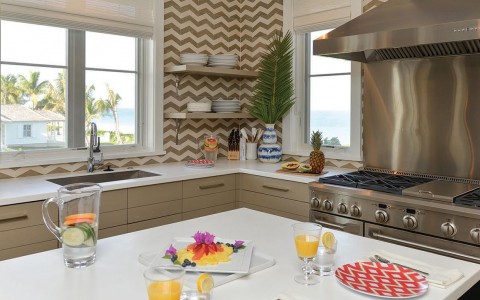 Dolce Vista
Low Season: $4,500 per night |High Season: $5,500 per night |Peak Season: $7,000 per night
Enjoy La Dolce Vista in this four-bedroom home offering the best of indoor/outdoor living on Harbour Island's famous Pink Sand Beach. Beachy accents and textures of wood and rattan furniture set the tone for an authentic Bahamian hideaway that surrounds a central veranda with stunning ocean views.
Book Now
View Details
Floorplan
The bedrooms: Adjoining a central open-air veranda, all four spacious bedrooms have king beds (one king converts into twin beds) with en-suite marble bathrooms.
The main house: Relax on the main level featuring a spacious living room, bar, fully-equipped kitchen, and dining room. The lower level is a self-contained living space with two king bedrooms, a kitchenette, sitting area, laundry room, and extra bath.
A central veranda: Step outside from your bedroom onto 650 sq ft of adjoining verandas, creating a home that brings ocean vistas into every corner of your life.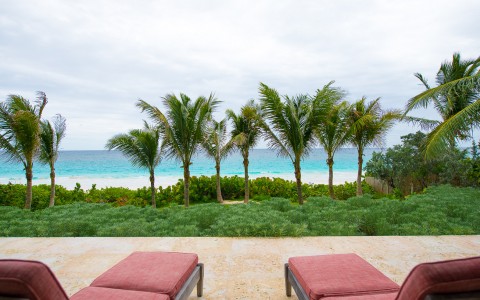 Metcalfe House
Low Season: $4,500 per night |High Season: $5,500 per night |Peak Season: $7,000 per night
This five-bedroom, seven-bathroom private home with two guest cottages offers light-filled interiors with '60s-inspired pop décor that brings color to every room. Lavish upper and lower verandas overlook a private pool and ocean views.
Book Now
View Details
Floorplan
The main house: The expansive upper floor, features a great room with sitting and dining areas, a full kitchen and upper veranda with outdoor dining. The lower level offers a family room, a powder room, laundry room and storage area.
The bedrooms: Three bedrooms in the main house include a master bedroom with a queen bed and private bathroom, the other two bedrooms each have two twin beds and their own private bathrooms.
The guest cottage: Perfect for families who want to give kids their own sleeping area, the cottage includes two twin beds on either side of a partition, and a bathroom. An outdoor shower and separate patio complete a true island experience.
The beachfront cottage: Spread over two levels, the upper level offers 360 degree island views with an extensive dining and reception area, and an open air kitchen perfect for entertaining. A great room, master suite with a king bed overlooking the ocean, and private bathroom complete the lower level. Just off the lower level is an outdoor sitting area and powder room.
Lily Pad
Low Season: $3,500 per night + Extra Person/Child: $40 per night |High Season: $4,300 per night |Peak Season: $6,000 per night
Perched above Harbour Island's magnificent Pink Sands Beach, this four-bedroom, four-bathroom designer home fuses the classic elements of Caribbean-Colonial style with modern luxuries. Seamless indoor/outdoor living flows onto a spacious patio surrounding a private swimming pool.
Book Now
View Details
Floorplan
Indoor/outdoor living: A spacious living area, opens onto two beautifully appointed covered terraces for entertaining and relaxing.
Ground floor: Featuring two guest suites, (one king and one with two twin beds) and their own bathroom as well as living area, bathroom and laundry room.
Second floor: The Kitchen, Great Room, and Master Suite with a king bed and private bathroom, are all on the second floor.